Our favorite Coachella 2022 looks and how to recreate them from the high street
BY RUBY BARRY | POSTED ON22 04 2022
So, we are all in agreement that it sucks watching influencers dancing it up in the desert whilst we deal with cloudy skies and too many errands to run?
Yeah, 'cos same.
If you haven't seen it all over your feed yet, Coachella is an annual music and arts festival held in Coachella Valley in the Colorado Desert and is well-known for being the central hub of upcoming fashion lewks.
Celebs from all over the world come together to listen to the biggest artists, such as Doja Cat, Phoebe Bridgers, and Harry Styles (yes, we are still reeling from his sparkly jumpsuit and his performance with Shania Twain). But, most importantly, Coachella is the place where influencers... influence. This year, influencers were bringing us butterfly tops, cowboy boots, and a whole lot of high-waisted shorts.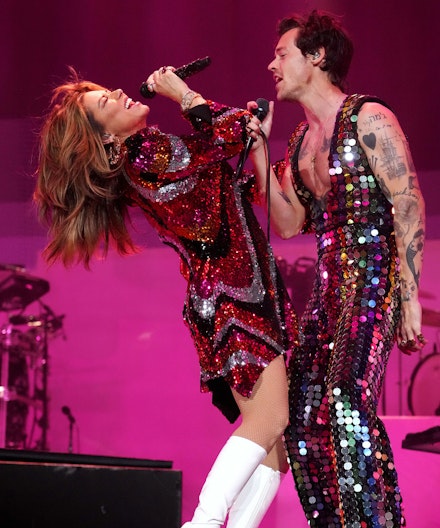 The steps to being it girl of Coachella include many, many selfies of your outfit and a perfectly crafted caption, preferably including a desert-themed emoji 🌵
READ MORE: Butterfly tops are having a moment! Here's where to buy one for just £14
So, after your social feed has been taken over by celeb's Coachella 2022 outfits, you'll defo be wanting to recreate some of the looks, because to be the best fashionista you can be, Coachella is your metaphorical Pinterest board.
In fact, Instagram hashtags are already going bonkers for the Coachella 2022 trends. According to research by Vera Clinic, crochet tops have a whopping 65,400 tags, chainmail has 2,300, whilst cowboy clothes have 1,200 hashtags. All these up-and-coming fashion trends are included in our gallery below- we've got you boo.
We've found the best Coachella 2022 looks, from celebs like Saffron Barker, Emma Chamberlain, and the Coachella queen herself, Vanessa Hudgens. Plus, we've found clothes from the high street that mean you can recreate their looks yourself on a budget.
CHECK OUT:  our fav Coachella 2022 looks and how to recreate them on a budget
CREDIT: @SARAHHASHCROFT
Sarah Ashcroft
Third on our list is influencer and blogger, Sarah Ashcroft, owner of the iconic That Pommie Girl blog. Coachella trends Sarah's loving: ☆ Faux fur/feather jacket ☆ Double denim (Sarah's jacket and trousers are bespoke from Sofia Marino)☆ Butterfly clipsLet's find some recreations below...
CREDIT: EMMIOL
Butterfly Print High Waist Flare Jeans
VIEW OFFER:£40.78 www.emmiol.com
CREDIT: @CHLOEBAILEY
Chlöe
Chlöe (full name Chlöe Bailey) is next on our list. She's a singer, songwriter, actress and record producer, and collabs with her sister, Halle. Coachella trends Chloë's nailed: ☆ Neon, so much neon☆ Platform sandalsLet's find some recreations below...
CREDIT: EMMIOL
Halter Triangle Bikini Set
VIEW OFFER:£16.99  www.emmiol.com
CREDIT: @MEGGANGRUBB
Meggan Grubb
Up next is Meggan Grubb, Instagram's number one personal trainer/fitness guru. Coachella trends Meggan's loving: ☆ Butterfly top (we told you Coachella was obsessed with butterflies this year)☆ Double denim for the ultimate cowboy feelLet's find some recreations below...
CREDIT: EMMIOL
Denim Butterfly Halter Crop Cami Top
VIEW OFFER: £17.84 www.emmiol.com